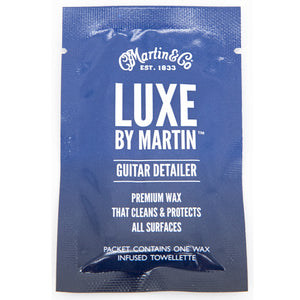 Guitar Detailer is a premium wax that cleans and protects all surfaces of guitars. Developed exclusively with Zymöl.
This ultimate natural cleaner and protectant comes in a quick, easy to use single use packet containing a wax infused towelette. Formulated with all natural ingredients this cleaner-wax combo is safe for all guitar surfaces.
Bring home the product used and approved at Martin's factory and care for your guitar with the very best.