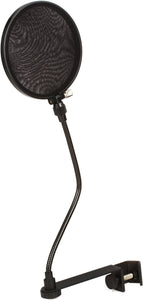 Prevent undesirable vocal plosives for improved recording quality with our adjustable ASVSR6GB Pop Blocker with Replacement Filters. The micro-weave nylon-screen filter inhibits pops and hisses without disrupting vocal tone. A clamp securely attaches the pop blocker to mic stands and a flexible gooseneck enables precise positioning of the screen between the mic and vocalist.
This pop blocker comes with two easy-to-change filters.
Specs
Diameter: 6 Inches
Clamp: C-Clamp with 12 Inch Gooseneck
Construction: Replaceable Nylon Screens
Approx. Weight: 14 oz
The Music Farm is an Authorized On-Stage Dealer.